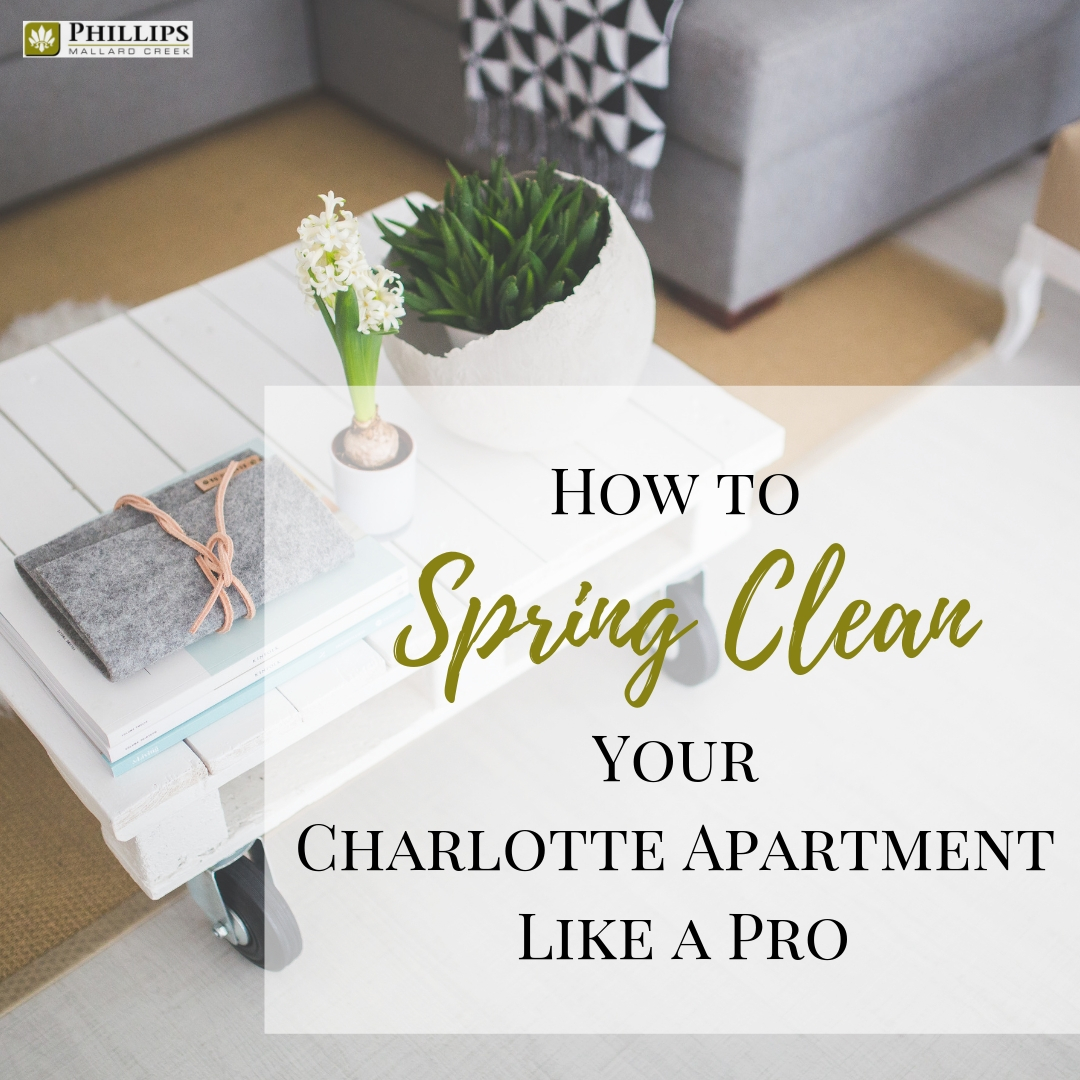 If you've been watching the Marie Kondo show on Netflix, then you are probably chomping at the bit to get to your spring cleaning this year. Spring is an excellent time to start knocking off the winter dust and freshening up your Charlotte apartment which is why we wanted to give you a few tips on tackling the job!
Here are 8 ways you can make your apartment sparkling fresh to welcome in the warmer months.
Set Aside Some Time
It is hard to really complete a large project when you only have a few minutes here and there to get it done. Try to set aside a large chunk of time to tackle your spring cleaning, like a Sunday afternoon, and you will be able to move from task to task without worrying about helping kids with homework or meeting a friend for coffee. Knowing you have this dedicated block of time will help motivate you to get the job done. If that is impossible, then block out 30 minutes every day for 5-7 days.
Make a List
Take a few moments to run through all the things you need or want to clean in your Charlotte apartment. Are your blinds a little dusty? Do you need to deep clean your carpets? Is your medicine cabinet looking cluttered? Having a list of the chores that you want to complete will help you organize your cleaning day, and it will keep you from getting distracted by random small tasks that can easily be completed at another time.
Create a Cleaning Kit
On your big cleaning day, you don't want to waste time tracking down the proper cleaners and scrubbers you need to get your job done. Go ahead and make yourself a cleaning kit that has all the supplies you need to tackle all the chores on your list. To keep things inexpensive, you can get anything you are missing at the dollar store.
Work from Room to Room
Make a systematic cleaning schedule that completely finished one room before moving onto the next. Bouncing around the house is an excellent way to waste a lot of time and not really get much done. If you know that you are going to tackle one room from top to bottom, you won't get distracted by the pile of laundry or the nightstand that needs to be cleaned out. An excellent place to start is the kitchen because it tends to be the hub of any house or Charlotte apartment. You can find some amazing kitchen cleaning tips here.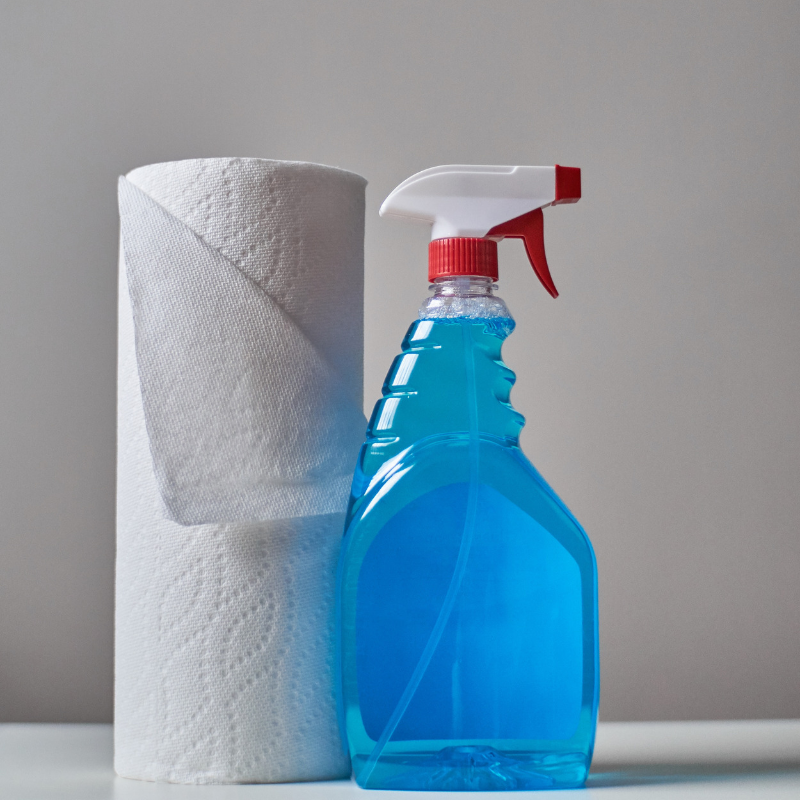 Focus on the Big Tasks
Things like cleaning mirrors, scrubbing toilets, and sweeping floors tend to get done on a regular basis. When you are blocking off a time for spring cleaning, you want to focus on those bigger projects that get pushed off due to time constraints on a normal week. Focus on cleaning out cabinets, washing baseboards, and dusting under and behind your furniture and appliances. These big chores will also help you feel like you got a lot accomplished.
Consider Your Health
There are some tasks that you should consider doing to keep everyone in your Charlotte apartment healthy. Things like wiping down doorknobs and light switches with a disinfectant wipe can help kill some of the lingering cold germs that may be floating around. Cleaning the ceiling fans and removing all the dust that has settled there over the winter will keep everyone breathing better when it is time to turn them on in the spring and summer months.
Eliminate Fire Hazards
If you have a washer and dryer in your Charlotte apartment, you should include vacuuming out the dryer vent and hose as part of your spring cleaning tasks. There is a lot of lint that can build up inside your dryer over the year, and it can become a fire hazard if not properly cleaned out. Your yearly spring clean is also a good time to check your fire extinguisher and make sure that it is still in date.
Reward Yourself!
Make sure you plan to give yourself a little reward for a job well done. You will be much more enthusiastic in your cleaning if you know that you are getting a little treat afterward. Perhaps that treat will be a new piece of furniture, it could be a massage or even just an ice-cream sundae. Whatever will motivate you to do a great job is a good reward!

---
Spring cleaning doesn't have to be something you dread! In fact, it can be what inspires you to get into some new good habits. We aren't saying you have to go full Marie on your space, but getting rid of a few unused kitchen utensils and recycling some old magazines never hurt anyone. Besides, it will give you more space in your Charlotte apartment for any new stuff you decide to buy this year!
If you would like more ideas to keep you apartment neat and tidy, click here to read our blog post titled "How to Keep Your Charlotte Apartments Guest Ready".