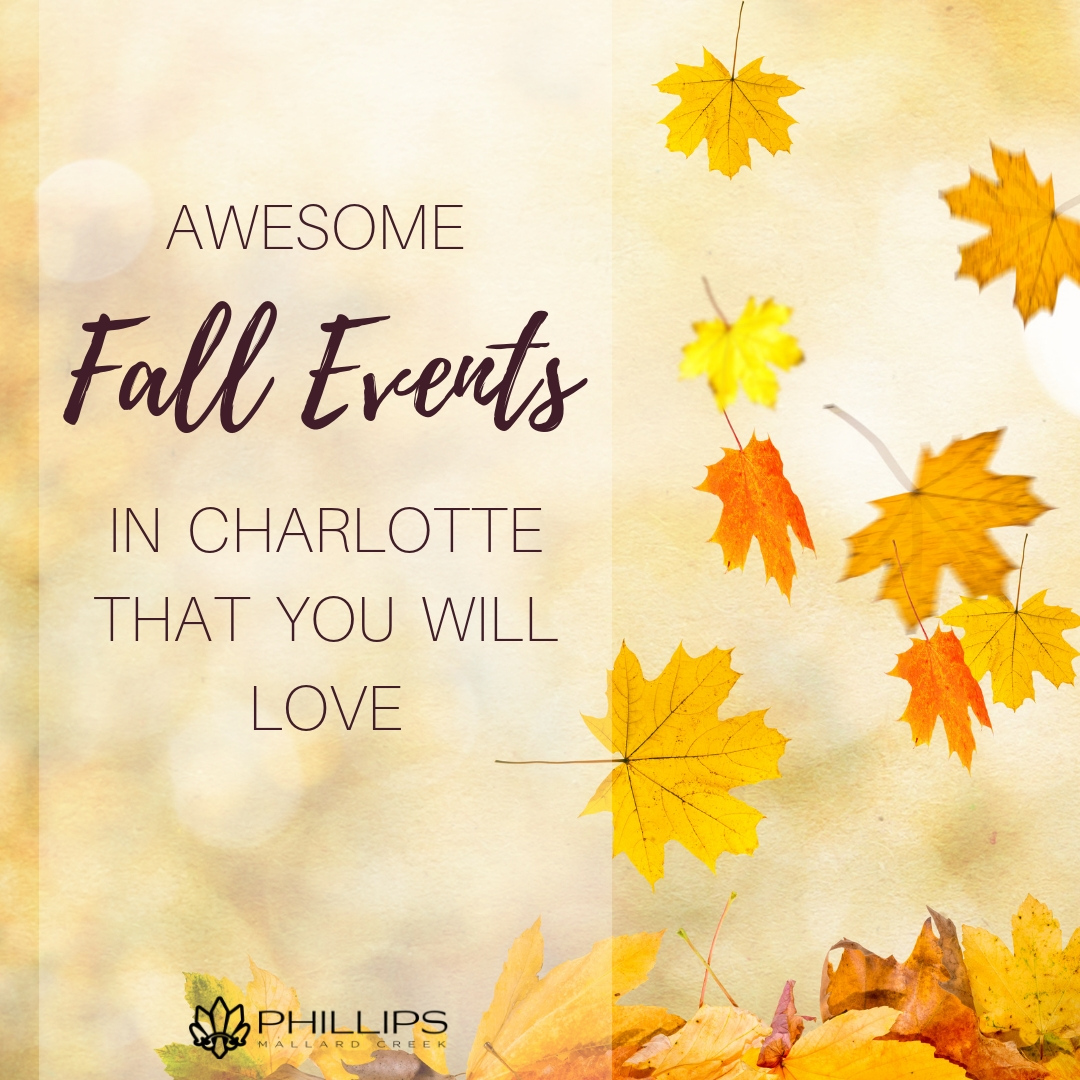 After a summer full of blazing hot temperatures, the cooler fall weather is definitely welcome in the Queen City. If you have been sticking to the interiors of your apartments near Mallard Creek to keep out of the heat, you are probably more than ready to get out there and enjoy a fall activity in the cooler air, right?
This list of fun stuff happening around the city in September, October, and November is just the encouragement you need!
The Ayrsley Grand Cinemas is featuring a bunch of classic horror films from the 70s, 80s, and 90s throughout the fall. On September 27th, you can head to the theater to catch a viewing of the original Hellraiser movie and the 90s classic slasher Candyman. Relieve the spookiness of your childhood at Ayrsley Grand, tickets are only $5.
Norfolk Hall in South End will be the place for those that love beer! There will be sampling from more than 30 local and regional breweries. Plus, live bands will be around to keep you entertained. There will be a lot of local Charlotte vendors in place to satisfy your shopping needs, and your ticket comes with a commemorative sample glass. The festival benefits the Safe Alliance which is a local domestic violence and sexual assault nonprofit.
The Breakaway Music Festival is being held at the AvidXchange Music Factory festival grounds, and the line up includes acts like Future, Emogee, and Kid Quill. Plus, there will be many other hip-hop and pop stars in attendance. A general admission ticket gets you access to the main stage area and the silent disco tent. There will also be vendors and other food trucks on site for a well-rounded experience.
Saturday, October 5th is the opening weekend for the Renaissance Festival, and you can B1G1 on adult tickets! Spend the day eating giant turkey legs, watching the joust, and exploring the artisan market. Come in costume or just your regular street clothes, either way you are sure to have a good time.
The Piedmont Culinary Guild is paring with the Daniel Stowe Botanical Garden to bring you an evening of local food and local brewers. You can nibble on goodies as you stroll through the garden, listen to live music, and enjoy food-related talks. The featured chefs come from area restaurants like 300 East, 5 Church, and Upstream.
The Embassy Suites by Hilton in Charlotte Ayrsley will be transformed into a real life Fairytale Ball complete with all the princes and princesses your kids love. There will be musical performances, dancing, and story times. Everyone is sure to love the candy buffet, and you create a magical tiara to take back to your apartments near Mallard Creek when you are done for the day.
Ink lovers should make their way to the Queen City Tattoo & Arts Festival that will be held at the Charlotte Convention Center. There will be live art, vendors, and various performances to enjoy. Plus, the festival will feature artists from around the world.
The Oasis Shriners on Doug Mayes Place is hosting the 6th annual Turkish Festival where you can sample traditional Turkish foods and coffee. There will be live music and dance performances. Plus, there will be a bazaar to explore and kids activities. Come out and enjoy some Turkish Delight and have a fortune teller give you a glimpse into your future.
Also happening on the 19th is the Grilled Cheese Fest which is the perfect spot for all those that are in love with this buttery, gooey sandwich. This is a 21+ event that promises live music, a cash bar, and plenty of fun games to play. Plus, your ticket gets you all the grilled cheese samples you could possibly want.
A living legend, Elton John will be performing at the Spectrum Center for the first time in four years. The Farewell Yellow Brick Road tour is rumored to be Sir Elton John's last. Tickets start at around $60 and move upwards of $200, but any fan of "Candle in the Wind" or "Tiny Dancer" will probably find the price well worth it.
This family-friendly event is taking place at the The Carole Hoefener Center, and it is a good opportunity to get your whole crew out of your apartment and out enjoying the day. You can expect games, face painting, and plenty of vendors on site. Plus, there will be food trucks in attendance to keep everyone fed. Kids will love spending time in the bouncy house, and you can try your luck at the gift raffle.

---
Now that you know about all these fun activities spread around the city in the next couple months, you should have plenty to keep you busy. Get out of your apartments near Mallard Creek and enjoy your fall!