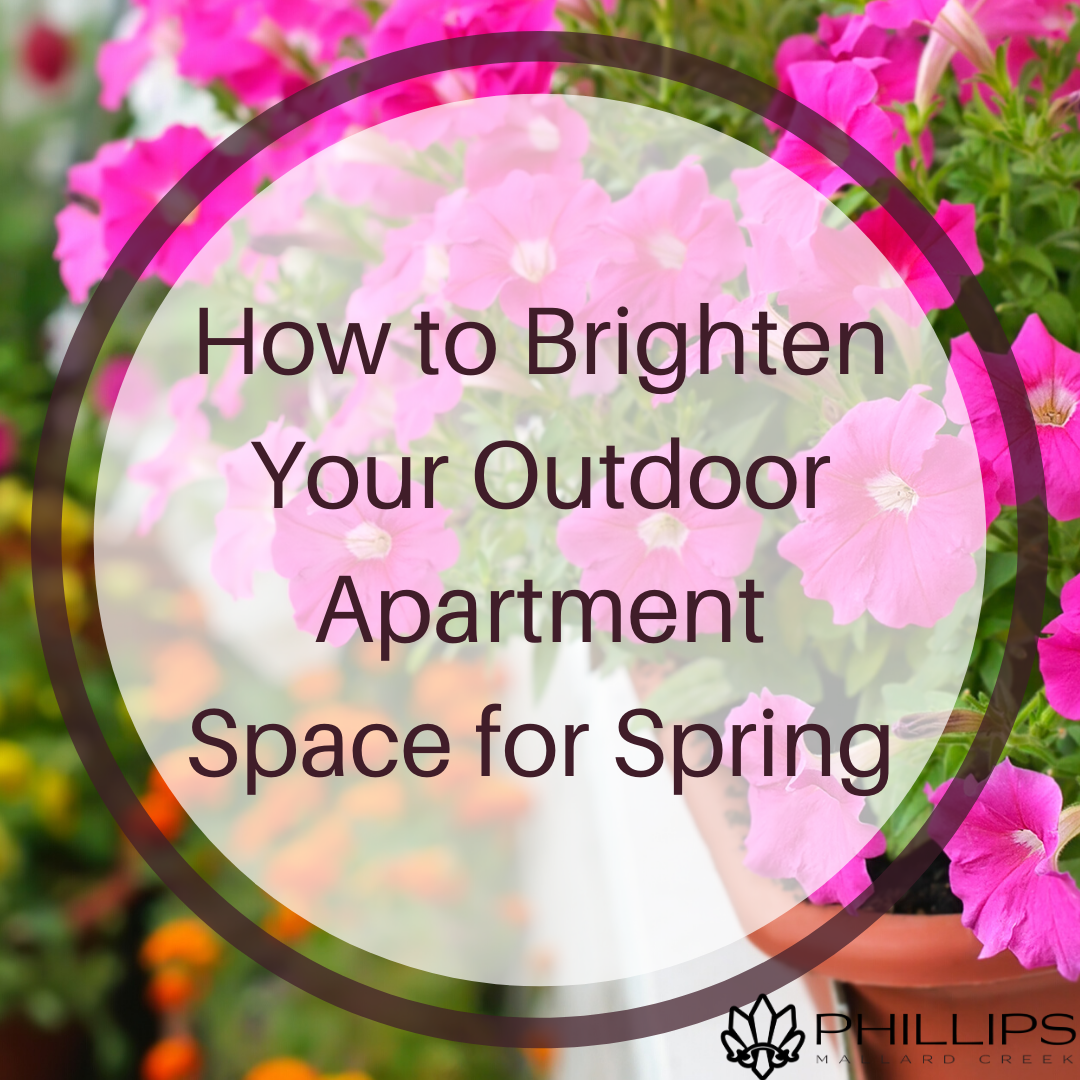 Spring is fully upon us. However, it may not be the Spring that you envisioned. With social distancing, numerous travel restrictions, and stay-at-home orders, your Spring may need a little brightening up! Give your Charlotte apartment the sprucing up it deserves by giving your balcony and entryway a Spring makeover.
Makeover Your Balcony
Flowers
Nothing says Spring like flowers! Right? Give your outdoor space a cherry makeover with lots of color and green. Fill that space with flowers. Home improvement stores are open so you can stock up on plenty of pretty posies and containers to put them in. You will also need some potting soil and a watering can.
Be sure to select flower varieties that are heat tolerate (it gets hot at your Charlotte apartment as Spring transitions to Summer) and are appropriate for your lighting. Does your balcony get lots of sun or lots of shade?
Unlike flower and plants planted in the ground, your potted oasis will need regular watering. Plan to water your flowers at least once a day.
Rug
Make your space extra inviting and fun with a new outdoor rug. From colorful classics to nice neutrals, there is something for everyone out there. Since many home decor stores are closed this Spring, you may want to look online options for purchasing your new rug.
Furniture
Your Phillips Mallard Creek apartment has a spacious balcony that is perfect for a small bistro set or a few relaxing chairs. Create a micro-escape right outside your living room. Make your outdoor space a wonderful little spot for morning coffee or an evening glass of wine.
Be sure to think about how you plan to spend your time on your balcony before you purchase patio furniture. Then, find a few items that will work for you and your family.
Makeover Your Entryway
Flowers
While you are picking up some flowers for your balcony, pick up a planter and posies to brighten up your front door. Remember that your entryway is likely very shaded for most of the day. So, choose a plant accordingly. Don't forget to water!!
Doormat
Say welcome with a fresh Spring doormat that will welcome you home every day. You may not be able to have guests over right now, but that doesn't mean your doorway can't give you a cheerful welcome!
Wreath
Hang a wreath on your front door with bright faux flowers. This is something you can DIY or order from Etsy. This is a great opportunity to let your personality shine. Some people like full and fluffy wreaths with vivid colors. Others prefer grapevine wreaths with a more natural look.

---
Not matter how you decide to decorate your Charlotte apartment for Spring, let your personal style shine through.
Don't forget to enter the Phillips Mallard Creek balcony and door decor contest, happening April 21-30. Winner will receive a $20 gift card to Target! Yay!! More money to spend on Spring decor!