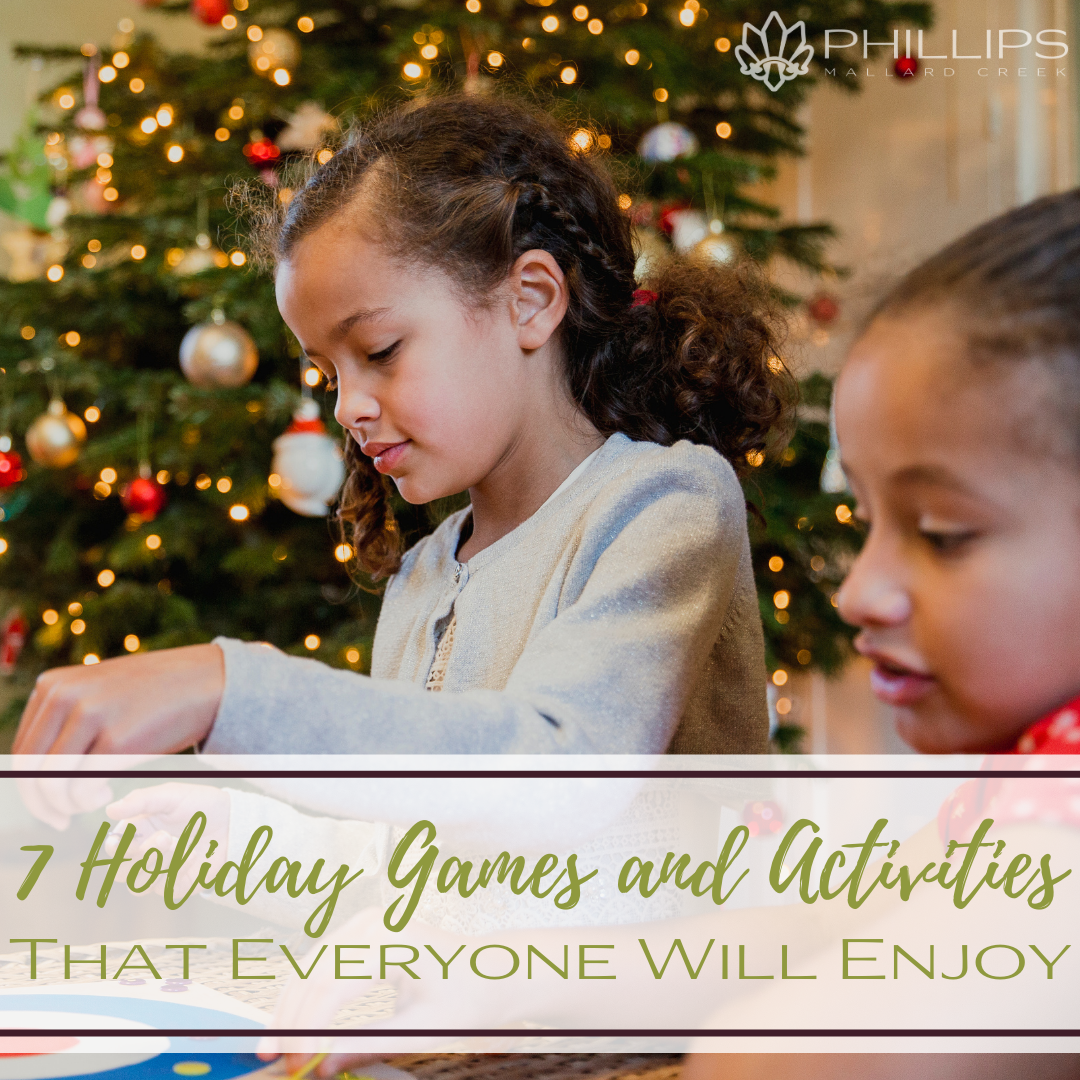 The holiday season can often pass by in a blur of food, gifts, and more than a little chaos. Some years it can seem like you barely finished decorating your Mallard Creek apartment and it is already time to put everything away again! That is why it is so important to slow down and spend some quality time with your friends and family — whether they've been naughty or nice this year!
One great way to get everyone to take time out and just enjoy the festivities is with a game! Whether you are traveling out of town, throwing a shindig at your Mallard Creek apartment, or doing a low-key virtual get together, we have a game for you. These activities are sure to have everyone laughing and forgetting about the holiday stress for a moment or two.
This is a great game because it can be played by all ages, and it doesn't require any special equipment. Plus, it is easy to customize into an adult's only version after the little ones have gone to bed! You can even play this via group text if some of your friends and family couldn't make it to the big event.
Basically, the "it" person thinks of a holiday-themed object that fits into one of these categories: animal, plant, or mineral. The other players ask yes or no questions in order to figure out what the mystery item is — but they only get 20 questions to come up with the correct answer.
Winter Treasure Hunt
This is another game that is very versatile, although you do need everyone to be in the same place. There are a couple of ways that this one can be played. The first is to run it like a scavenger hunt where the participants head outdoors to find winter items like ice, holiday decorations, or particular animals that are around during the winter season.
Another option is to get each person a small gift and hide them around your Mallard Creek apartment. Then the guests are sent out to explore and find the "treasure" with their own name on it.
Holiday Trivia
Everyone loves a chance to show off their smarts which is why trivia games are always a hit! This is also a good option for those with family members spread around the country as they can Zoom into the game!
There are plenty of free trivia questions to be found online, all you need is a quick Google search. Plus, there are also trivia games that can be purchased at local retailers. If you really want to get creative, you can have each guest make up a handful of questions.
Santa Claus Limbo
This is a silly game that is sure to have everyone on the floor laughing! You may need to make a little space in your Mallard Creek apartment to accommodate the limbo stick, but the extra effort should be well worth it.
The game is played just like traditional limbo, but the participants have to wear a big round Santa belly (a pillow stuffed under their shirt!) to play. Once the stick starts lowering, the "belly like a bowl full of jelly" will make things pretty tricky.
Christmas Mad Libs
Remember playing Mad Libs as a kid? You can bring that silly joy to your holiday party with a free printable — or if you are feeling creative, you can make your own! Mad Libs can be played by guests of all ages, and you can even customize your sheets for the different age groups.
There are several ways that you can make this activity work. You can break up into pairs, do them all as a group, or have each person do their own!
What's in the stocking?
If you have a few extra stockings laying around your Mallard Creek apartment, then you can play a fun game of Guess What's in the Stocking! This game can end up being hilarious, especially if you choose odd-shaped or unconventional items.
Simply place a few items into separate stockings and tie them up tightly. Then the stockings are passed around the group with everyone getting a chance to guess what is inside. The person that gets the most correct answers is the winner!
Couple's Gift-Wrap Relay
For this game, everyone needs to partner up, and you will need boxes and gift-wrapping supplies. For each pair, one person gets their left hand tied behind them, and the other gets the right. Once everyone is ready, it is a race to see which couple can get their box wrapped. You can give prizes to the team that works the fastest and the team that has the best-looking box.
These seven games and activities should keep everyone happy this holiday season!
If you are looking for more holiday inspiration, check out "How to Prepare Your Charlotte Apartment for the Holidays".