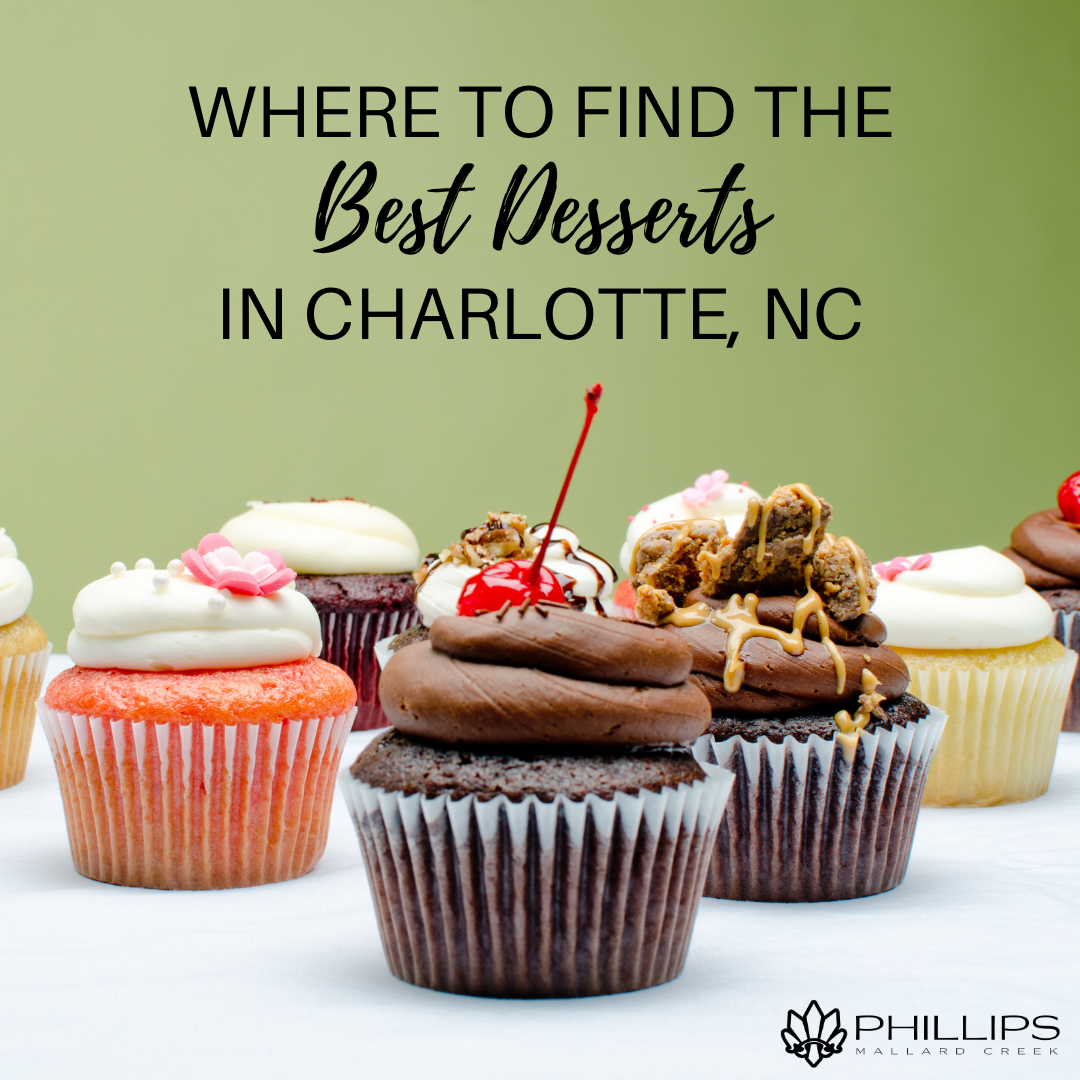 When your sweet tooth is calling, it is epically hard not to answer. While you could certainly whip up a batch of cookies or some gooey brownies in the kitchen of your Mallard Creek apartment, things just seem to taste more delicious when someone else does the hard work of making it!
Lucky for you, there is a multitude of restaurants, bakeries, and cafes serving up delicious desserts in the Charlotte metro area. But we won't leave you to hunt out these delectable all by yourself! Keep scrolling for 9 of the best desserts in Charlotte, NC.
No list of Charlotte goodies is complete without the iconic Amélie's! No matter which corner of the city you reside in, there is an Amélie's within a reasonable distance. You can find one of their cafes in Carmel Commons, NoDa, Montford Park, Rock Hill, and Uptown. The menu ranges from goodies like twice-baked croissants to salted caramel brownies. Their collection of colorful French macarons is always a big draw, but they also have delicate tea cakes, flaky eclairs, and beautiful fruit tarts to try.
The hours vary by location.
Known for its colorful and delicious bubble tea, Bikini Cafe's desserts shouldn't be slept on. Their collection of Filipino desserts are sure to delight. Dig into menu items such as Halo Halo, a sugary-sweet crushed ice dish, or Banana Turon, a banana spring roll dusted in brown sugar! Binki Cafe is located in the University neighborhood which makes it an easy stop for anyone living in a Mallard Creek apartment.
Binki Cafe is open seven days per week starting at noon.
This Uptown cafe is located in the Charlotte Marriott City Center and offers plenty of space to enjoy your sweet snack with its stadium-style seating made for lounging! In addition to their gourmet coffee options, you will find flaky chocolate croissants and other pastries. However, the big draw for many is their specialty cronuts! They often have seasonal flavors that are sure to delight.
Coco and the Director is open seven days a week starting at 7 am.
Located in the NoDa neighborhood, Reigning Donuts is a walk-up window where you can get the freshest donuts in the city. These "no-frills" donuts are dropped in the fryer when you place your order, and they come out piping hot. You may find that you need to make the trip from your Mallard Creek apartment multiple days per week so you can try their daily flavors like Peanut Butter Banana and Hot Sauce Icing with Chicken Skins!
Reigning Donuts is open Tuesday through Sunday for breakfast and dinner hours.
Jeni's, a national chain, has three locations in Charlotte: South End, NoDa, and Park Road. You can head to one of these three spots to taste-test the wondrous flavors on offer and feel good about it too! Jeni's has made a commitment to ensure "95% of what you buy in our shops is reusable, recyclable, or compostable." Yay for eco-friendly desserts! At Jeni's, you will find flavors like Skillet Cinnamon Roll, Gooey Butter Cake, Wildberry Lavender, and Boston Cream Pie. They have dairy-free options as well!
Hours vary by location.
The Blakeney area offers up some baked goodies in the form of SAS Cupcakes! These made-from-scratch delights have no trans fats and no preservatives. Plus, it is a locally owned establishment! Don't want to get out of the house? You can get delivery via GrubHub and UberEats. SAS offers flavors like White Chocolate Pretzel, Tiramisu, and Candy Cane Crunch. (Flavors change with the seasons!)
SAS Cupcakes is open seven days per week. Hours vary.
A decadent candy shop, The Secret Chocolatier is located in the Cotswold area of the city, but you can probably just follow the scent of rich chocolate to get you there! This gourmet confection shop offers tasty treats such as truffles, toffees, barks, cookies, bon bons, caramels, brownies, and more! Their Cinnamon Roll Bon Bons won an International Chocolate Award in 2018. The shop is owned by the Dietz and Ciordia families — chocolate artisans.
The Secret Chocolatier is open Tuesday through Sunday until 4 pm.
Charlotte locals love this scratch-made bakery which has locations in Ballantyne, Dilworth, and Elizabeth. Sunflour Baking Company's menu showcases items such as the lemon meringue bar and strawberry lavender berry tart. You will also find assorted eclairs, cheesecakes, and whoopie pies. They often carry gluten-free options as well! At Sunflour, the goodies are made from scratch and locally sourced as often as possible. You won't find any boxed mixes in their kitchen!
Hours vary by location.
Another University area option, the family-owned Ninety's Ice Cream offers up Instagrammable treats both in person or via delivery with UberEats and DoorDash. While you can always opt for a traditional single scoop, the menu also provides gourmet milkshakes, smoothies, floats, and Ninety's iconic Yum-ee Buns.
Ninety's Ice Cream is open Tuesday through Sunday. Hours vary.

---
Are your taste buds watering yet? We have more great blog posts on our website for you to enjoy?
If you are ready to switch from bakeries to breweries, check out: Your Ultimate Guide to Best Charlotte Breweries.