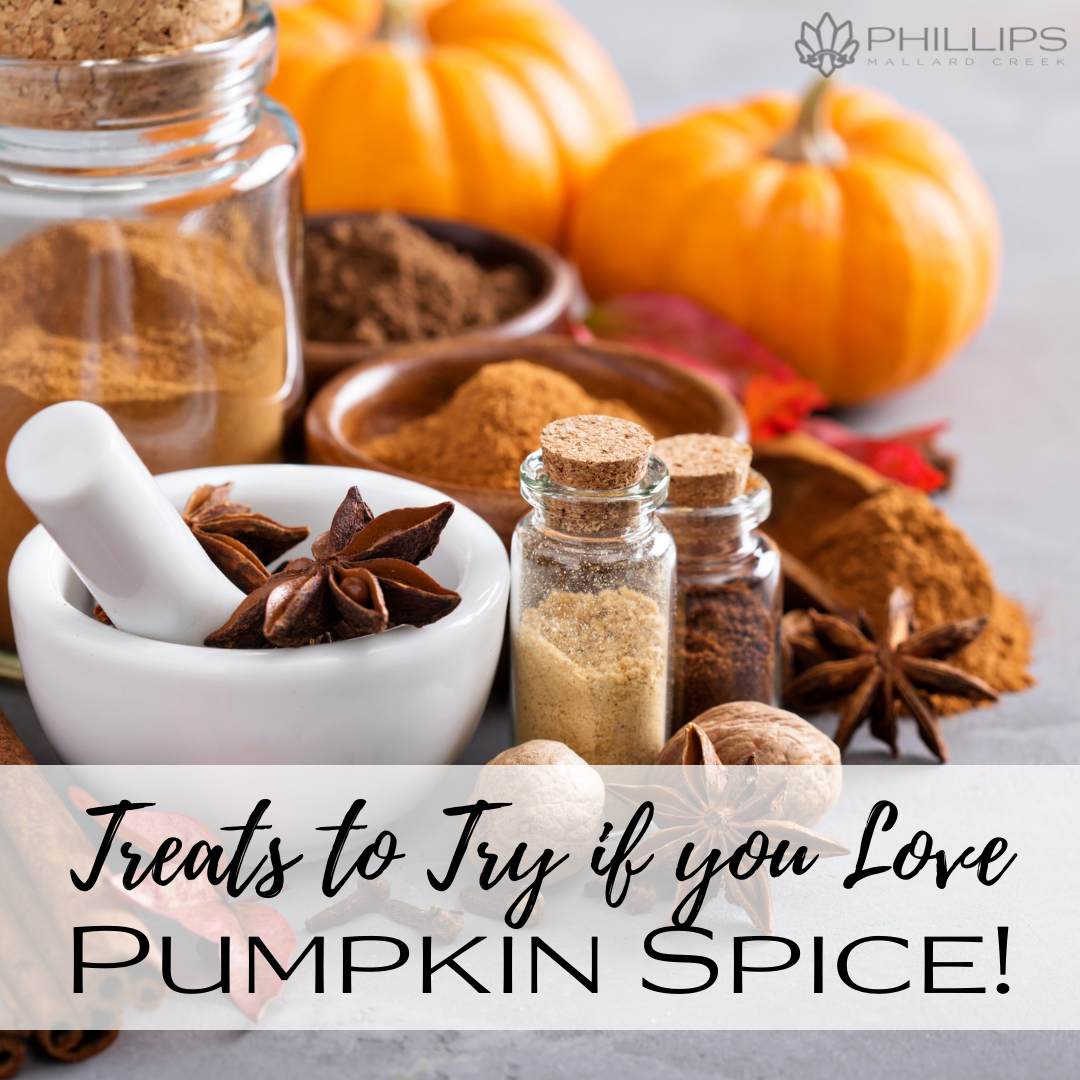 If you are one of those people that can't wait for September to roll around so you can get your favorite pumpkin spiced latte, then this post is for you. We have collected a cadre of pumpkin-flavored treats for you to enjoy.
There are enough ideas here to keep you pumpkin-ing all fall long! These Mallard Creek apartments will smell so sweet and spicy, you may never want to leave home. Ready to add a little pumpkin to your life?
Copycat Starbucks PSL
No need to leave the coziness of your Mallard Creek apartment for a Starbucks run when you can make the pumpkin spiced latte at home! This DIY latte combines sugar, cinnamon sticks, canned pumpkin, and pumpkin pie spice to give you that flavor you crave. The syrup is so good, you won't want to save it just for your latte. You'll be drizzling it over pancakes, ice cream, and your morning oatmeal.
Find the recipe here.
Pumpkin Cupcakes
These PSL-flavored cupcakes will be just the thing for the church bake sale of your fall get-togethers. The base is a pumpkin cake mix, and you can really give it that little extra flair with the iconic green straws for decoration.
Find the recipe here.
Pumpkin Butter
You've probably had honey butter, and you've maybe even had strawberry butter, but have you ever had pumpkin butter? This is a good recipe for those that like to be a little hands-off in the kitchen as you mostly just mix and wait. To get all of that pumpkin butter perfection, you will need to let it cook slowly for nearly 5 hours. But the wait will definitely be worth it.
Find the recipe here.
Whole Wheat Pumpkin Muffins
If you want to make sure you get your whole grains in each day, then these whole wheat pumpkin spice muffins will surely do the trick. So, what goes in these lovelies? You will add a little cinnamon, some cloves, a dash of nutmeg, and of course pumpkin! They make a great breakfast or even an afternoon snack.
Find the recipe here.
Pumpkin Fries
If you're fond of eating sweet potato fries, then you will likely love pumpkin fries! These babies can be made in the comfort of your Mallard Creek apartment using your oven or an air fryer. All you need to do is cut some fresh pumpkin into matchsticks, toss in olive oil, and throw on your favorite spices. If you like things savory, stick to parmesan or garlic seasonings. Those that want them sweet won't go wrong with a cinnamon and sugar mix.
Find the recipe here.
PSL-Flavored Donuts
Your morning will be so much sweeter if you whip up some pumpkin spice flavored donuts to break your fast. The good news is there are only three steps to get these guys ready to eat. Plus, you probably have most of the ingredients on hand already! You can get a donut pan at Target, Walmart, or Amazon!
Find the recipe here.
Roasted Pumpkin
You can keep things simple and classic with a roasted pumpkin recipe. The dish is so versatile, and you can eat it as a side or as the main course. You'll get a delicious treat that is tender in the middle while still being crispy on the outside. Plus, you can roast the seeds while you're at it for even more snacking power.
Find the recipe here.
Pumpkin Overnight Oats
Why not start your day off right with a big bowl of pumpkin spice latte oats? This is a super simple recipe that you can make in a mason jar or plastic container. All you need to do is combine the ingredients and toss them in the fridge. In the morning, you will have a pumpkin-flavored breakfast to enjoy.
Find the recipe here.
Pumpkin Beer Chili
You can also add a little pumpkin to your dinner rotation with this pumpkin beer chili recipe. You'll end up with a healthy meal that is sure to satisfy even the hungriest among your crew. While the recipe doesn't call for any actual pumpkin, you could switch out the butternut squash for chunks of pumpkin instead.
Find the recipe here.
PSL Rice Krispy Treats
If you have little ones running around your Mallard Creek apartment, then you may want to try out this twist on the traditional Rice Krispy treat recipe. You'll have to wait until the grocery store starts stocking the pumpkin spice marshmallows to complete this one, however.
Find the recipe here.
Pumpkin Spice Popcorn
At this point, you may be thinking you have all the pumpkin you can handle, but surely you have room for one more pumpkin-flavored item? This popcorn only takes about 5 minutes to land in your bowl, and it will be the perfect accompaniment to your weekend Netflix binge. All you need is some pumpkin pie spice and a little bit of espresso powder. Viola!
Find the recipe here.
Well… there you have it! So much amazing pumpkin awesomeness to choose from! Which receipt will you try first? We are thinking the copycat Starbucks and that pumpkin muffin would be great to enjoy on a beutiful fall morning from your Phillips Mallard Creek apartment balcony. Enjoy the chill in the air and the turning colors of the leaves!! What could be better?