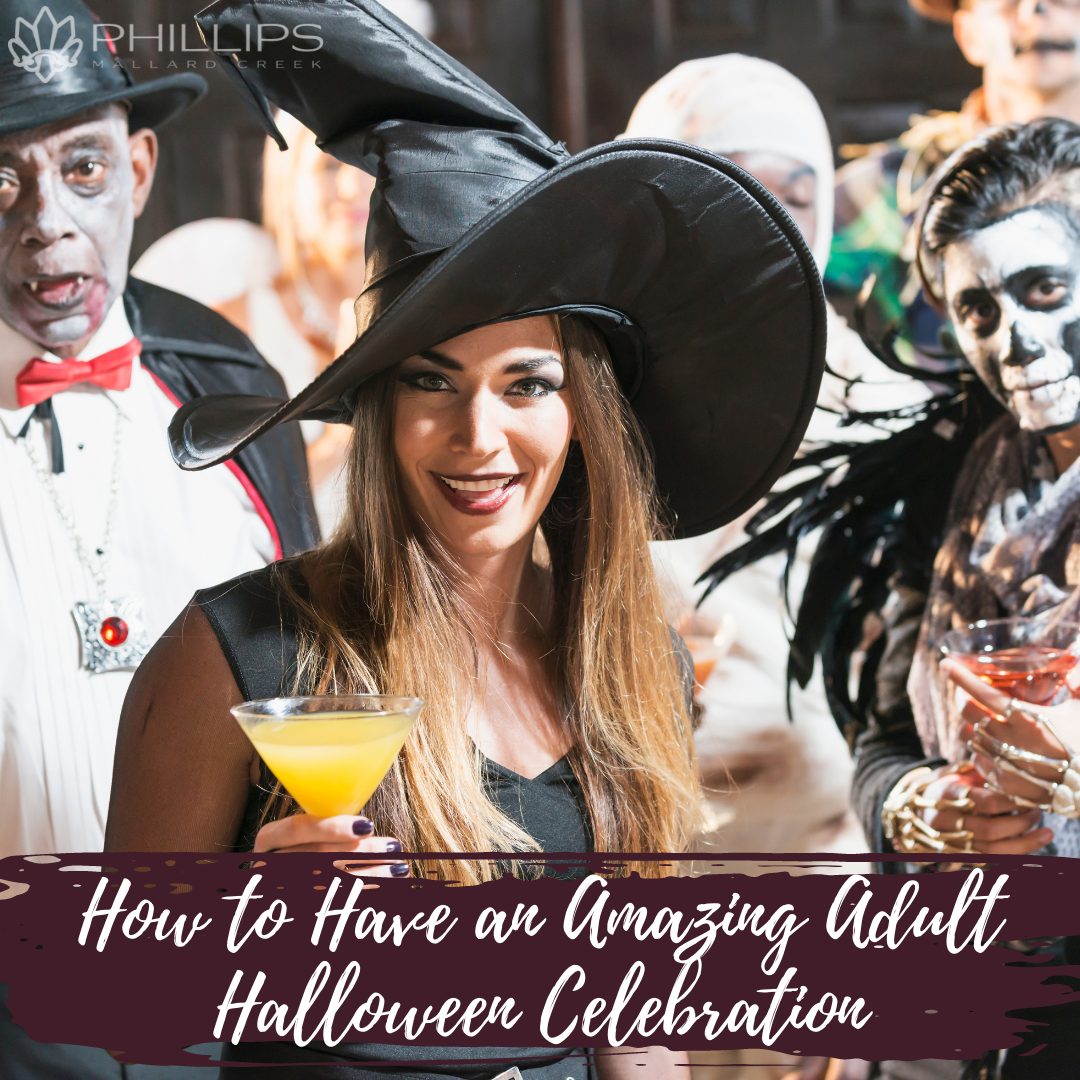 Fall is finally here which means we are just a hop, skip, and jump away from spooky season! If you are looking to throw a Halloween get-together this year in your Charlotte, NC apartment, we have the ideas you are searching for.
From picking a theme to planning your party games, we have got you covered. Your friends will be super impressed with your Halloween savvy.
Pick a Theme
First things first, you need to pick a theme for your shindig because it will take your party to a whole new level. By giving your guests a theme, you can help them know what type of costume to pick. Plus, it will help you channel your creativity when it comes to decor, food, and maybe even your cocktail selections.
A few theme ideas you may want to consider:
Harry Potter
Old West
Villains
Time Travel
Zombie
Speakeasy
Black Tie
Remember, just because you are throwing a gathering for adults, it doesn't have to be scary. You can easily choose a theme that is light and fun like 80s cartoons or historical figures.
Create Spooky Invitations
The right invitation will help convey your theme to your guests. You can set the mood for your gathering before the first guest even arrives. Whether you choose to do virtual invitations or classic snail mail may depend on the theme you choose. For instance, if your theme is the 1950s, you may want to send out paper invitations reminiscent of the era, but if your theme is sci-fi movies a virtual invite may be more appropriate.
Another good thing about the invite is that you can let your guests know what to expect. Will you be having a super spooky event, or will it be more light-hearted? The style of your invitation will clue them into the answer.
Have a Good Costume
Don't get so caught up in your party planning and decorating your Charlotte, NC apartment that you forget to plan for your own costume! Obviously, if you have a specific theme chosen for the event, you will need your costume to match it. But it is probably that you can go thrifting for most of the items that you will need.
If your theme is a little more laid back (or you've left it to the last minute) you may want to go with something super easy to pull off like a Where's Waldo look or a #basicgirl.
If you really want to wow your guests, you could try emulating one of these awesome makeup tutorials.
Make Some Spooky Snacks and Drinks
You can really wow your guests if you go straight dinner party style and have a homemade meal with several courses. Of course, Halloween can definitely be more casual with finger foods or even potluck style. Don't forget to include dishes with fall favorites like pumpkin, apples, and cinnamon.
You will also want to make sure you have a few fun snacks. One fun thing you can do is "misfortune" cookies with spooky or silly fortunes inside. Fortune cookies also taste great when they are chocolate dipped!
You will want to make sure that you also have a few fun cocktails for your guests to enjoy. You can do "bloody" drinks with red icing gel around the rims or try one of these Halloween drinks: Black magic margaritas, sweet poison cocktail, and Jell-O glow shots.
You can also decorate wine or beer bottles with custom labels. You can find sometimes find premade labels at craft stores or Halloween stores, but you can easily design a label on your computer using Canva and then print it on a sticker.
Have a Halloween Playlist
Use Spotify or your favorite streaming service t whip up a Halloween playlist. Don't forget to add classics like The Monster Mash, Michael Jackson's Thriller, and songs from the Rocky Horror Picture show. Rob Zombie also has a few songs that wouldn't be amiss at a spooky party!
Don't Forget the Party Games
You can have a spooktacular time in your Charlotte, NC apartment when you remember to plan for a few party games. You don't have to run to the store and purchase a bunch of expensive board games — most of these options are free or relatively cheap.
Horror Movie Trivia: If you and your friends love to watch scary movies, then horror trivia will probably be right up your alley. You can create the questions and answers yourself with a little bit of googling, or you can find some premade questions available online.
Drunk Bingo: If you want to keep things super simple, you can play a few rounds of bingo where the winner (or losers) gets to drink. Bingo cards of all kinds can be found online, and you can even incorporate music into the game.
Halloween Charades: Keep things silly with a game of charades. Everyone can write something down that is Halloween-themed, such as movies, monsters, or even Halloween candy. Put all the ideas into a hat, draw them one by one, and make each of your friends get to acting!
Now you have no excuse to not plan and throw the most epic adult halloween party of all time! What better place to host your tasteful and non-neighbor disturbing party than your spacious Phillips Mallard Creek apartment. If you are new to our beautiful community, be sure to check out our amazing one, two, and three-bedroom floor plans.